MUSICAL MUSINGS - One Hour Concerts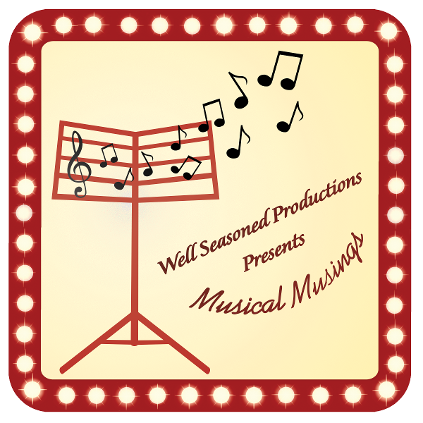 Musical Musings - One-hour Concert
Locations: Greater Toronto area
Where will you find award–winning singers, dancers, actors, and musicians, who have trod the boards of Stratford, Broadway, Mirvish, Kennedy Center, Disney, and Shaw, lit up stage, film and TV, toured from sea to sea, AND happen to be on the better side of 50? Right in your own home when you book a performance of Musical Musings. This show offers a selection of tunes that will set your toes tappin', your hands clappin', plus lots of audience sing-a-longs to help you feel refreshed and entertained.
Contact Trish Adams for more information
"It is with great enthusiasm that our home recommends the Well Seasoned Productions. They performed for our residents on July 12, 2019 and it was a well spent afternoon. Residents are still raving about it. Their sing-a-long booklets were a hit along with their choice of songs. The group was very friendly and interactive with the residents. Furthermore, Well Seasoned Productions was extremely easy to work with, great communication and very organized. Our home would definitely have them back again."
Carina Faria, Activities Lead and Volunteer Coordinator, St. Hilda's Senior Care Community
"I just wanted to thank you again for the amazing show you and your peers gave to our participants. They enjoyed it so much as did I. Many of them would agree that musical musings was one of the BEST guest performances to ever come to our program. Your groups talent and infectious enthusiasm really wowed the crowd. Please let us know if your ever free to return to our program. Well Seasoned Productions was an absolute hit at Sunshine Centres!"
Martin Haffenden, Program Co-Ordinator, Sunshine Centres for Seniors, 117 Bloor St E., Toronto
"Thank you for coming to Christie Gardens to perform – we thoroughly enjoyed it. You all were so lively and full of energy which really drew us in and made the hour go by too quickly! Afterwards, two different women came up to me with tears in their eyes – one said she never cries, but couldn't help but tear up hearing all the songs. It brought her back to the days when she toured the country with a singing group and gave shows. The other, it brought her back to the days when she went to camp as a girl – she had just recently thrown out the songbook from her camp and your group covered some of those songs. She was THRILLED.
Thank you!
Kate Wiersma, Christie Gardens, 600 Melita Cres. Toronto
"I am sending this letter to thank you for all the help that you gave us during our Adopt A Senior Christmas drive. Our residents found your performance to be excellent. They had a wonderful time. They have been talking about it nonstop since you left, and have been asking when we will be having you back again. Even our very jaded staff loved it. We found that your performers were very professional and were able to keep our residents entertained and interested right till the end. It was a great pleasure to have you here and we hope this will lead to a long and complementary relationship. Thanks again,
Yvonne Burton, Activation Manager, Main Street Terrance, 77 Main St., Toronto
"Well Seasoned Productions THANK YOU!!! In December, I attended your entertainment with my sister at her Seniors' Residence. After the show, I heard one of the long term residents and former head of the Residents' Counsel saying "Best show we've ever had here..." Their Activities department arranges lots of 'talent' for the residents - and I have experienced many of them with my sister. But, the calibre of your talent, appropriate song selection and the genuine warmth that you created in a room full of residents and family was top drawer and MUCH appreciated by every one there. We certainly hope that you will be able to return during the year to share more joy with our beloved seniors. It may be a little overused lately but it is heartfelt from me and many others... "Thank you for your service". I hope you know the difference that you make in someone's life when you give from the heart - and how long the memory of your contribution will live on."
Bill Dietrich, family member of a resident at Humber Heights, 2245 Lawrence Ave W, Toronto
Many of these concerts are produced with funding from either the New Horizons for Seniors Program (Federal) or Seniors Community Grant (Ontario). We thank them for their support of seniors performing for seniors.