Where age is just a number... a musical theatre number!
Well Seasoned Productions was honoured to perform for a group of seniors at Blair Court, Toronto, on January 25, 2019.
Julie Dabrusin, the MP for the Toronto-Danforth riding, is a huge supporter of WSP's mandate. We were thrilled to note that upon our arrival The Honourable Filomena Tassi, PC MP, Minister of Seniors, was also in attendance.
WSP has benefited in the past from a New Horizons for Seniors grant and we were very grateful to have the opportunity to give back to a most welcoming audience.
Click HERE to see the speeches after the concert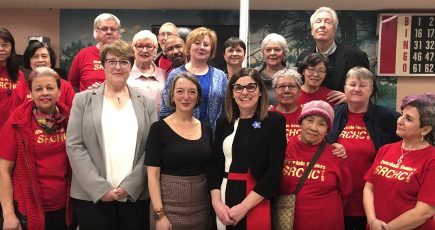 Joan White, Julie Dabrusin, Filomena Tassi with members of WSP and the Ukelele group.
What a room full of LOVE for AFR!
Here's a video of A. Frank singing
accompanied by Diane Leah with Mark Cassius and the audience singing back up vocals!
Thank you to all who joined us for our first fundraiser Tuesday August 14th, 2018.
Briane will be confessing at the 16th annual Hamilton Fringe Festival July 18th to 28th, 2019.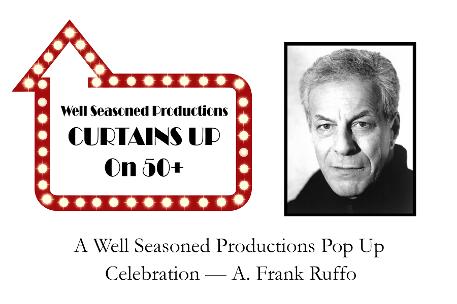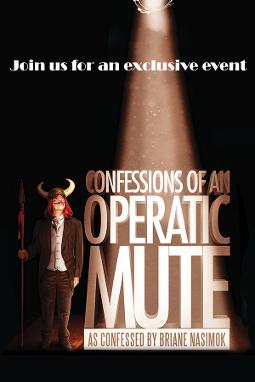 SUNDAY, JULY 29, 2018
Join us as we celebrate A. Frank Ruffo,
Canadian actor, singer, dancer who has performed in countless feature films and TV series, theatre and musical theatre.

We will also celebrate his support of Casey House with DQ and Fruit Cocktail.
Buddies in Bad Times Theatre – Cabaret
12 Alexander Street
Doors open 2:30 p.m.
Entertainment 3 p.m.
Cake & Schmoozing 4:15 p.m. - 6 p.m.
Cash Bar
Tickets $20

Click here to purchase on line
Buddies Box Office 416-975-8555 (Tuesday-Saturday from 12-5pm)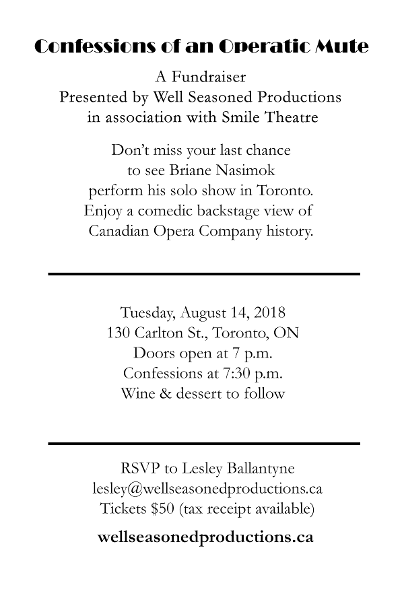 Well Seasoned Productions (WSP) is a Toronto-based theatre company led, inspired, performed, accompanied, and created by professional Canadian artists aged 50+. Producer Lesley Ballantyne and Artistic Associate Mark Cassius, and their team bring their collective musical theatre expertise to an under-served area of the theatre industry – that of senior professional artists.
Age should not be a defining factor in one's ability to entertain and move audiences, yet older artists are oftenneglected. Their years of experience are an invaluable resource and WSP is tapping into that and celebrating their talent. Our performances aim at enriching audiences of all ages, while specifically shedding light on issues and emotions pertinent to mature artists.
For further information on Well Seasoned Productions please contact:
Suzanne Vanstone, Director of Communications Email: suzannevanstone@gmail.com
TO BE ADDED TO OUR EMAIL LIST please email your name and contact information to Trish Adams