Where age is just a number... a musical theatre number!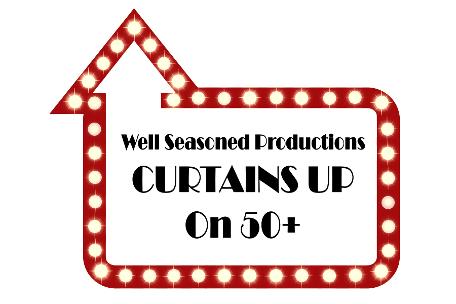 BROADWAYWORLD Toronto NOMINATION
We wanted to share with you some wonderfully unexpected news. Well Seasoned Productions has been nominated for Best Independent Theatre Production by 2017 BroadwayWorld Toronto Awards, for its show Can't Get Enough.

We had such fun bringing this show to you, so to now be recognized in this manner is a further honour. We would be most appreciative if you would consider showing your generous support by voting for us!

Please visit the following link, and click on Vote Now. Please note that we are listed under Best Independent Theatre Production.
www.broadwayworld.com/toronto/article/Voting-Now-Open-For-the-2017-BroadwayWorld-Toronto-Awards-20171114

Thank you!
We've received wonderful feed back from audience members:
"Still tapping my toes and humming the tunes!" "Excellent show!" "Wonderful work today from everyone - wishing you all continued success, and love." " Sign us up for the next one!"
CAN'T GET ENOUGH CAST:
Trish Adams, Lesley Ballantyne, Mark Candler,
Mark Cassius, Helen Deterville, Aggie Cekuta Elliot
Jeffrey Prentice, Scott Smith, David Talbot,
Meg Walter, Sandy Winsby
CAN'T GET ENOUGH CREATIVE TEAM:
Generally Artistic Directors - Lesley Ballantyne and Anne Wootten
Music Director - David Warrack
Artistic Advisor - Mark Cassius
Set Design: Phillip Silver
Lighting Design: Peter McKinnon
Stage Manager - Ben Cekuta
WSP is on a brief hiatus - we're working on our next project.
Join our email list and you'll be the first to know about it.
TO BE ADDED TO OUR EMAIL LIST PLEASE EMAIL YOUR NAME AND CONTACT INFORMATION
TO Trish Adams
Well Seasoned Productions (WSP) is Toronto's newest theatre company led, inspired, performed, accompanied, and created by professional Canadian artists aged 50+. Producers Lesley Ballantyne and Anne Wootten, along with artistic advisor Mark Cassius, bring their collective musical theatre expertise to an under-served area of the theatre industry – that of senior artists.
WSP presented an extremely successful inaugural season with the support of a New Horizons for Seniors grant and the goodwill of all involved.
For further information on Well Seasoned Productions please contact:
Suzanne Vanstone, Director of Communications Email: suzannevanstone@gmail.com