Where age is just a number... a musical theatre number!
Well Seasoned Productions is proud to promote, "A Great Deal of BS!"
Starring Ballantyne & Smith
Wait... what were YOU thinking? Tsk. Tsk.
Our intrepid and wonderfully talented WSP leader, Lesley Ballantyne, pairs up with her equally wonderfully talented husband, Scott Smith, to bring us a great evening of song and dance.
The marvellous David Warrack accompanies the dynamic duo.
Come sample a little of this, and a little of that at this one-night-only event.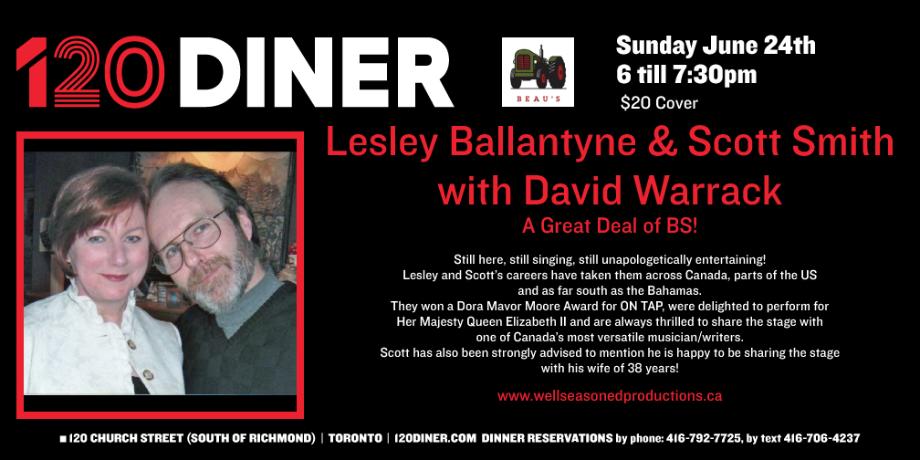 120DINER.COM Dinner Reservations by phone: 416-792-7725, by text 416-706-4237
Well Seasoned Productions (WSP) is Toronto's newest theatre company led, inspired, performed, accompanied, and created by professional Canadian artists aged 50+. Producer Lesley Ballantyne and artistic associate Mark Cassius, bring their considerablemusical theatre expertise to an under-served area of the theatre industry – that of senior artists.
WSP presented an extremely successful inaugural season with the support of a New Horizons for Seniors grant and the goodwill of all involved.
For further information on Well Seasoned Productions please contact:
Suzanne Vanstone, Director of Communications Email: suzannevanstone@gmail.com
TO BE ADDED TO OUR EMAIL LIST please email your name and contact information to Trish Adams