Where age is just a number... a musical theatre number!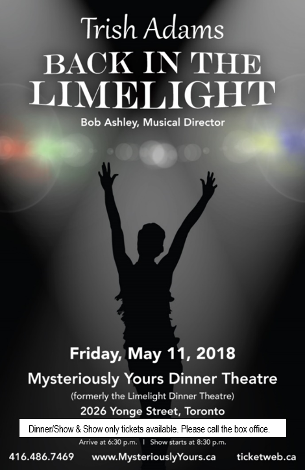 WSP is proud to promote "Back in the Limelight," a one-night-only event starring our very own Trish Adams.
Trish generously assists us with administration and volunteers a lot of her valuable time to help WSP run smoothly. We wish her well and hope you will come out and support a wonderful evening of Broadway!
Note: Venue has two flights of stairs and is not accessible for those with mobility challenges.
Dinner and Show OR Show only tickets:
Call: 416.486.7469
What a wonderful evening!!!
Mark Cassius and David Warrack...
Two more wonderfully well seasoned performers - who could ask for anything more?!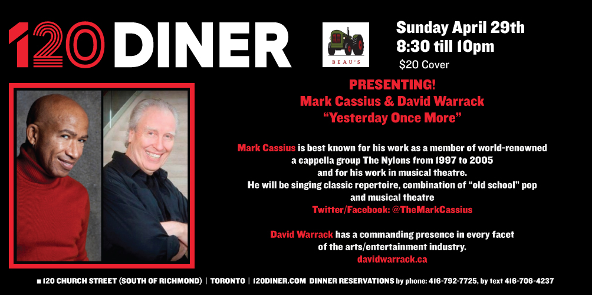 Wasn't THAT a Party!! Our thanks to all who roasted and toasted our own Mark Cassius
March 18th at Buddies in Bad Times Theatre - Cabaret
Here are a few of the wonderful comments about our first Pop Up:
"Incredible performances, great stories, and a general love-in for one of our favourite people!"
"Thank you for putting on the event and thank you for all your work, it was a terrific evening... a love fest!"
"Great fun. Great cause. Great memories. Great people."
"It's wonderful that you've discovered a fantastic event that would benefit so many of our peers by not only lifting their spirits but gaining recognition."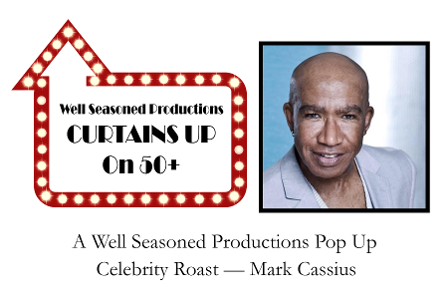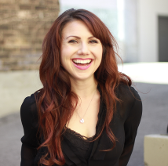 Hosted by Jennifer Walls (host of SINGular Sensation)
SINGular Sensationis on social media @sing_sensation
and @singularsensationmondays.
Well Seasoned Productions (WSP) is Toronto's newest theatre company led, inspired, performed, accompanied, and created by professional Canadian artists aged 50+. Producer Lesley Ballantyne and artistic advisor Mark Cassius, bring their considerablemusical theatre expertise to an under-served area of the theatre industry – that of senior artists.
WSP presented an extremely successful inaugural season with the support of a New Horizons for Seniors grant and the goodwill of all involved.
For further information on Well Seasoned Productions please contact:
Suzanne Vanstone, Director of Communications Email: suzannevanstone@gmail.com
TO BE ADDED TO OUR EMAIL LIST please email your name and contact information to Trish Adams