Where age is just a number... a musical theatre number!
Registered Charity 74862 6272 RR0001
Socially Distant but Staying Connected
WE WANT YOUR STORIES!
Older people don't always feel heard – this is your opportunity!
A few possibilities to get your creative juices flowing:
- anecdotes about your experience(s) working in the entertainment sector
- an original story or poem
- an original song lyric (we'll partner you with a composer to set your lyric to music)
- what advice would you have given your younger self?
- how did you manage through the Covid closures?
This is all about YOU!
If you want assistance to develop or hone your story we will partner you with an experienced facilitator via Zoom or phone. Francesca Peppiatt, an Emmy nominated writer, developed our 6-week course. The video submissions will be edited into 15 to 20 minute segments and posted on the WSP YouTube channel for your family, friends, and the public to enjoy for free. We can also assist with the technical skills needed so you can learn to use Zoom and video record yourself.
This project is free to all participants and you retain copywrite (ownership) of all material you create. We'd love to have you be a part of this exciting project!
Contact: Lesley Ballantyne Lesley@WellSeasonedProductions.ca
Cell 416-460-4491 (Mon to Fri 1-4 pm)
This project is funded by the Government of Canada's New Horizons for Seniors Program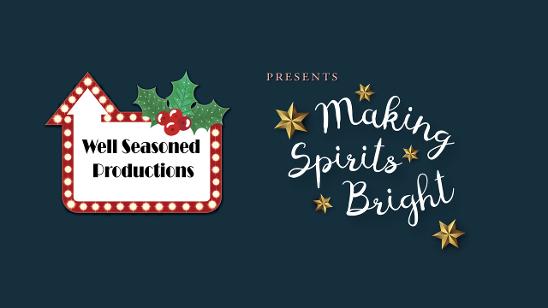 We hope this finds you healthy (and still sane) as we head into another time of Covid uncertainty. We still miss performing for you in person, not to mention the joy and connection we, as performers and musicians, experience during the rehearsal process. We need to remain creative and engaging virtually, so are delighted to share this link to our free 12 minute Christmas on-line concert.
Click HERE to watch
EXCITING NEWS!!
We are delighted to announce that Well Seasoned Productions (WSP) is now incorporated as a not-for-profit organization and we were successful in our application to the Canada Revenue Agency for Charitable status. We can now issue tax receipts for all donations made to support our company.
There are three ways to make a tax deductible donation:
Cheque - made out to Well Seasoned Productions and mailed to 181 First Avenue, Toronto ON M4M 1X3
E-Transfer: email Lesley@wellseasonedproductions.ca
Via Canada Helps (accepts credit cards, PayPal, gift cards)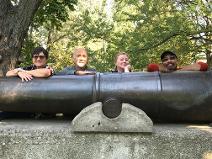 We had a great deal of fun producing this video to announce our incorporation and charitable status.
Click HERE to watch.
Our stalwart team: Trish Adams, Lesley Ballantyne, Mark Candler, Mark Cassius, with David Warrack at the piano. Video production by Trish Adams. Videographers: Cameron Ballantyne and Richard Mendonca. Vocals recorded at Kensington Sound.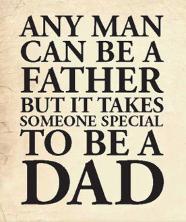 June is when we celebrate Father's Day.
We offer this 10 minute celebration of three special men in our lives plus some wonderful photos of a few Well Seasoned performers and their special someone.
Click HERE to watch.
Special thanks, once again, to Trish Adams for her continued work to keep WSP relevant in these difficult Covid times.
Warm regards,
Lesley Ballantyne, Trish Adams, and Reid Spencer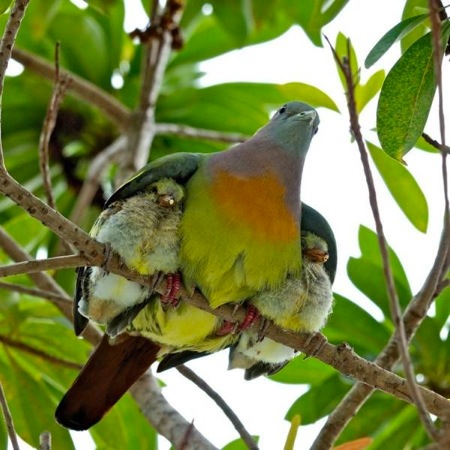 Well Seasoned Productions is showing our love for mothers everywhere.
Please enjoy this short video offering in celebration of three special women in our lives.
Click HERE to watch.
Warm regards,
Lesley Ballantyne, Trish Adams, and Mark Cassius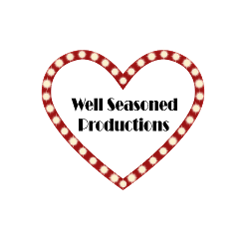 Well Seasoned Productions is showing our love for our professional senior performing artists as we celebrate five years of supporting and promoting their work.
This 10 and a half minute video offering is a retrospective in photos and archive audio clips of "then until now".
Click HERE to watch it
So many people have offered their time and multiple talents to help us in our mission.
I would like to extend additional thanks to Trish Adams, one of our core group of volunteers, who has put so much time and effort into making this celebration video.
Warmest regards,
Lesley Ballantyne
PS Norman A. Hart provided the lovely photos used in the "Putting on Your Glitz" at PAL Toronto. Our apologies for missing you in the credits.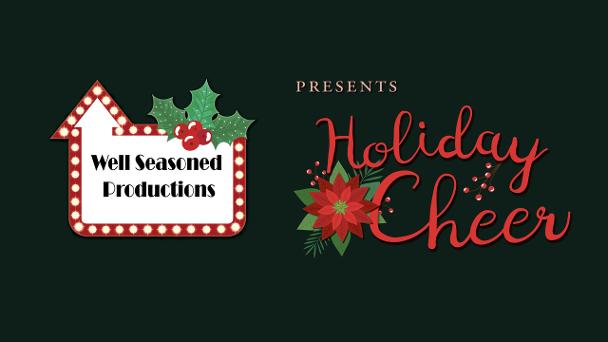 Click HERE to enjoy again in 2021
THANK YOU TO EVERYONE WHO WATCHED HOLIDAY CHEER.
We appreciate and have enjoyed reading all the positive comments.
We miss performing for you in person, not to mention the joy and connection we, as performers and musicians, experience during the rehearsal process and performances.
We've got some (physically distanced) projects in the works for 2021 - details will be posted when everything is confirmed.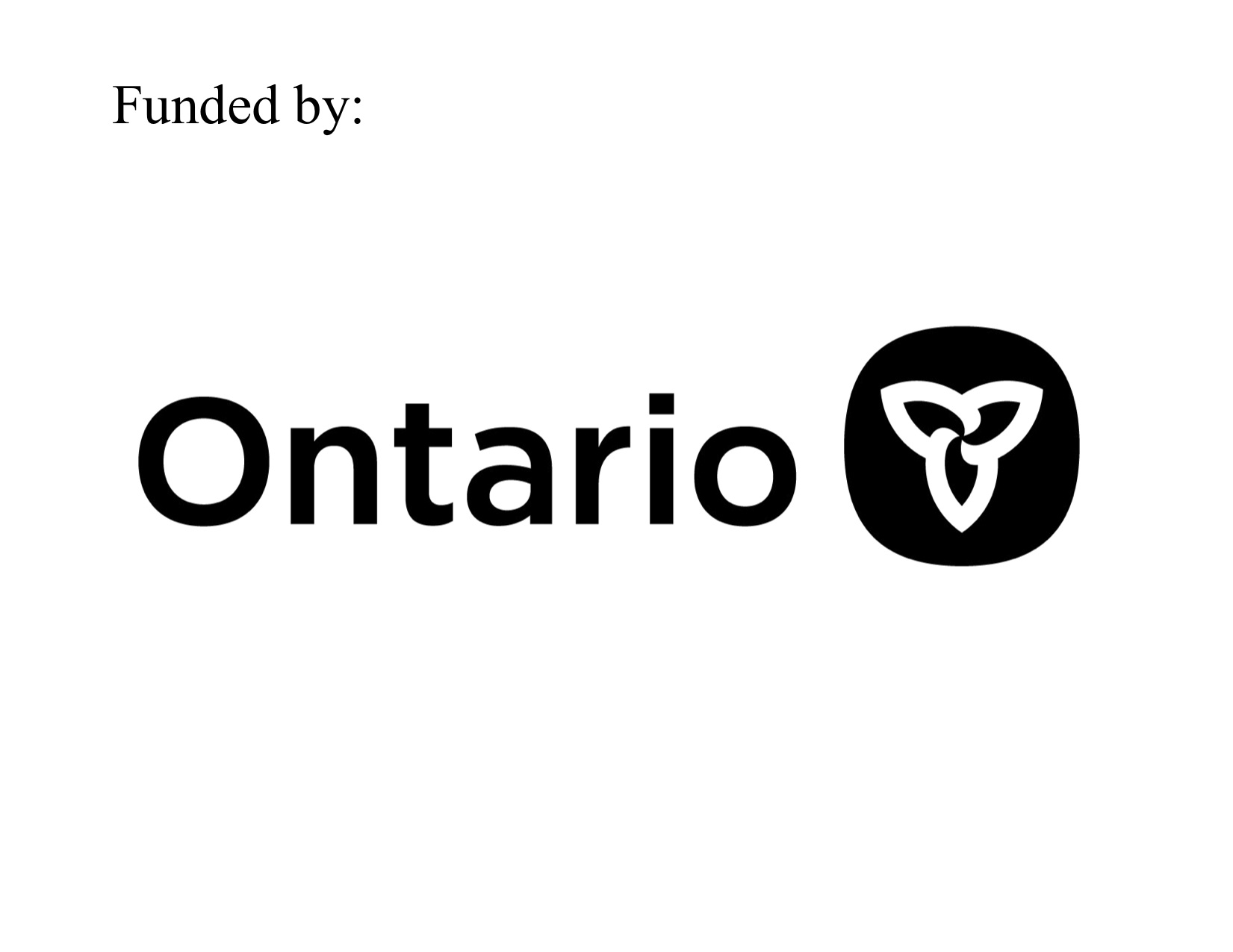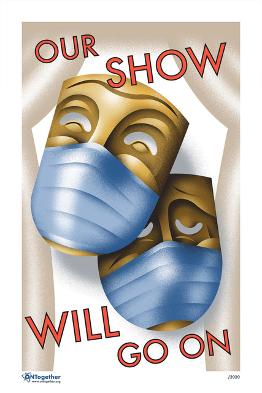 WSP is pleased to share this fantastic poster in support of fundraising efforts for PAL Toronto and PAL Futurecare.
This is a challenging time for all non-profits and every little bit helps.
If you are able, please make a 100.00 donation at the link below and receive a copy of this beautiful (12x18 inch)poster:
https://www.ontogether.org/resiliency-poster/show-will-go-on-poster
If you would like to make a smaller donation to PAL Toronto:
Thank you for supporting our senior artists.
We're still meeting via Zoom
Top: Mark Cassius, Lesley Ballantyne
Bottom: Mark Candler, Trish Adams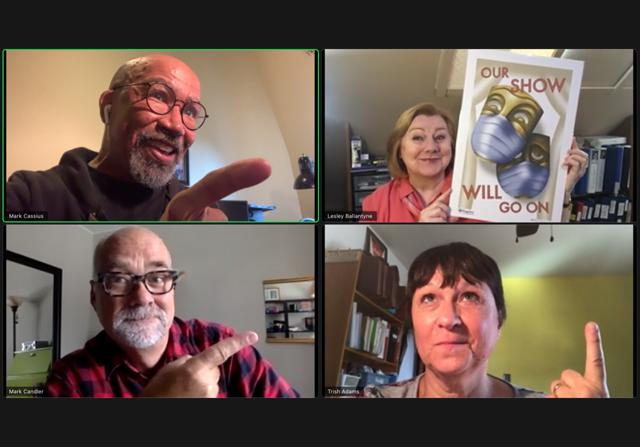 MUSICAL MUSINGS, our one-hour concerts for Seniors in the GTA
ALL BOOKINGS ARE POSTPONED DUE TO THE COVID-19 shut down.
We hope everyone stays healthy and sane in these troubling times. Please take care of yourselves and we'll look forward to entertaining you when circumstances allow.
Well Seasoned Productions (WSP) is a Toronto-based theatre company led, inspired, performed, accompanied, and created by professional Canadian artists aged 50+. Producer Lesley Ballantyne and Artistic Associate Mark Cassius, and their team bring their collective musical theatre expertise to an under-served area of the theatre industry – that of senior professional artists.
Age should not be a defining factor in one's ability to entertain and move audiences, yet older artists are often neglected. Their years of experience are an invaluable resource and WSP is tapping into that and celebrating their talent. Our performances aim at enriching audiences of all ages, while specifically shedding light on issues and emotions pertinent to mature artists.
We embrace the "delights" of ageing. At the heart of our musical revues is a genuine and humorous look at the issues and emotions we will all face as we age. We want everyone to leave the shows with a song in their heart, a laugh on their lips, and a spring in their step. The repertoire includes Canadian musical theatre, Broadway, and popular music selections.
For further information on Well Seasoned Productions please contact:
Lesley Ballantyne Lesley@wellseasonedproductions.ca
TO BE ADDED TO OUR EMAIL LIST please email your name and contact information to Trish Adams