CURTAINS UP On 50+
Where age is just a number... a musical theatre number!
To sign up for our email list please see the Contact Us page.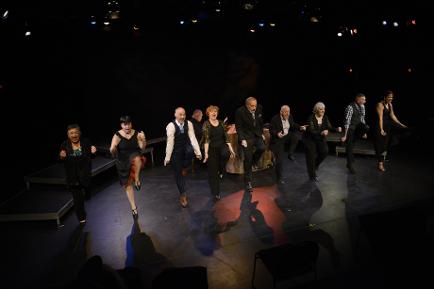 CAST:
Trish Adams, Lesley Ballantyne, Mark Candler,
Mark Cassius, Helen Deterville, Aggie Cekuta Elliot,
Jeffrey Prentice, Scott Smith, David Talbot,
Meg Walter, Sandy Winsby
Can't Get Enough featured an original title song by Mark Cassius. Plus songs by David Warrack & new lyrics to an old favourite by Sandy Winsby just for fun.
This show has a little song, a little dance, and lots of toe-tapping-make-you-feel-wonderful music.
CREATIVE TEAM:
Producers and Generally Artistic Directors:
Lesley Ballantyne and Anne Wootten
Music Director: David Warrack
Artistic Advisor: Mark Cassius
Set Design: Phillip Silver
Lighting Design: Peter McKinnon
Stage Manager: Ben Cekuta
Production Assistant: Trish Adams
Additional choreography: Trish Adams, Helen Deterville, Jeffrey Prentice, Scott Smith
For further information please contact:
Suzanne Vanstone, Director of Communications
Email:suzannevanstone@gmail.com