Where age is just a number... a musical theatre number!
AN AFTERNOON WITH JERRY HERMAN
Presented February 23rd, 2020 - Arts and Letters Club of Toronto, 14 Elm Street, Toronto.
Our Well Seasoned Performers (in alphabetical order)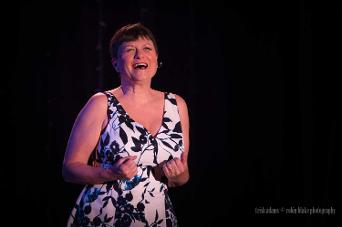 Trish Adams
It's exciting to still be performing after 40 years in and out of the business. From Toronto to Vancouver, White Horse to the Caribbean, Trish has performed on stage, screen, TV and cruise ship. A Chorus Line, West Side Story, Anne of Green Gables, 42nd Street, Sophisticated Ladies are some her favourites. Her one-woman show, Trish Adams – Back in the Limelight, produced in May 2018, was a long time coming but a definite career highlight. Now a certified Personal Trainer and senior fitness instructor, she helps mature adults get active and stay healthy. Trish is a proud mom and grandmother. Trish has been working with WSP since the launch in 2015 and was seen on stage in Can't Get Enough and Young at Heart.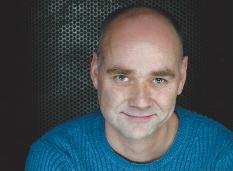 Mark Candler - Front of House and Performer
As a singer/dancer Mark has performed on stages across Canada and is thrilled to be back on the boards for a second season with Well Seasoned Productions. Regional credits include Guys & Dolls (Harry the Horse) Persephone Theatre, The Plays the Thing (Mr. Mell) Georgian Theatre, Anne of Green Gables (Willie Boulter/Station Master alternate) Charlottetown Festival, Me & My Girl (Ensemble) Drayton, Fiddler on the Roof (Avram/Dancer) Huron Country Playhouse, and The Vaudevillians (Phil) Lighthouse Festival, Port Dover. Toronto credits include Cabaret, 42nd Street, Joseph and the Amazing Technicolor Dreamcoat (Asher/Butler/Dance Captain), and Dead Air… the Musical (Jimmy the Page). Thank you Lesley and Mark for providing this opportunity – there are not enough words. Scott I couldn't do it without you. Mom it's always for you.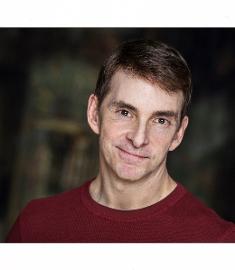 Michael Donald
Michael is pleased to be part of Well Seasoned Productions, Jerry Herman concert. Michael has been a professional performer for the past 30 years and has appeared in shows in the U.S, Canada, and Germany. Favourites include, Disney's Beauty and the Beast, Crazy For You, Singin' in the Rain, Cabaret, Anne of Green Gables, and various productions of Cats. Enjoy the show!!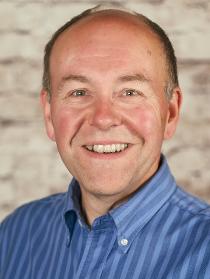 Scott Hurst
Scott began his theatrical journey as a sailor in Anything Goes and he's been adrift ever since. Favourite roles include Nicely-Nicely in Guys & Dolls, Gerald in Me and My Girl, Underling in Drowsy Chaperone, Bumble in Oliver, Herod in Jesus Christ Superstar, Mr. Snow in Carousel, and Marcellus in The Music Man. His one-man performance piece, Laughton Common, has played at both Barrie's Talk is Free Theatre and Hamilton's Theatre Aquarius, and is under discussion for a revival later this year. As a director of over 25 musicals and plays, Scott's favourite project to date is Andrew Prashad's One Step At A Time; A Father's Journey. As always, love to Rob!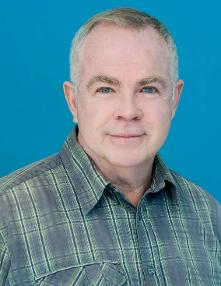 Philip Douglas Kerr
After obtaining a degree in architecture and working in the construction industry for 10 years, an abrupt career change lead Philip to the original Canadian cast of Les Misérables, including hundreds of performances as the hero Jean Valjean in Toronto, on two Canadian tours and in London's West End. Other roles in England include Gus in Cats and Marcel in Aspects of Love. Back in Canada, he has appeared as Ralph in H.M.S. Pinafore, Herr Zeller in The Sound of Music, Sterling in Jasper Station, Vinnie in The Odd Couple, Gilbert in Things We Do for Love, and Bruce in Mama's Country Record Collection. TV includes Flashpoint, The Music Man, Mayday, and the Tenth Anniversary Concert Production of Les Misérables, recorded live at London's Royal Albert Hall. Philip returns to WSP, having appeared in "That's Life" in 2016.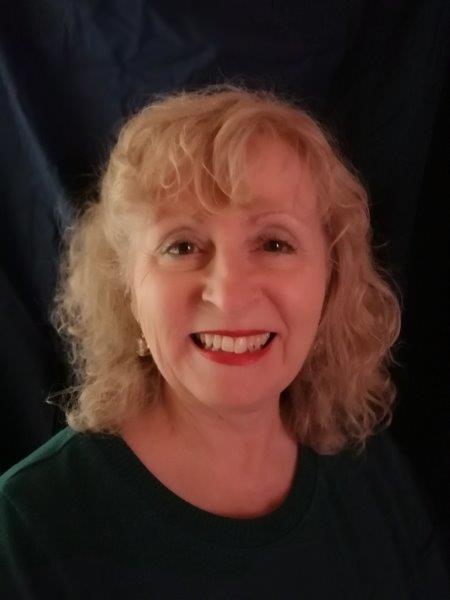 Charlene Shipp
Charlene's career began in 1972 and included roles in the original Toronto productions of Godspell, Dames at Sea, Flicks, Blue Champagne, plus Toronto, Toronto, Music Man, The Sound of Music, South Pacific, Guys and Dolls, Something Familiar, The Drunkard, Arsenic & Old Lace, and You're a Good Man Charlie Brown (the last two with Patrick Young), The Donnellys, Fresh Disasters, Death of a Salesman, The War Show, Cole Cuts (A Cole Porter Party), Jacques Brel, Kismet, and Day in Hollywood - Night in The Ukraine, among others. She enjoys singing with a Seniors' choir and a trio, The Bluebirds, playing her ukelele. Both groups entertain at senior centres and retirement homes. Charlene performed with "The Smile Company" from 1972-75; her first equity job – also entertaining Seniors! Talk about a full circle! Charlene is thrilled to be performing with Well Seasoned Productions.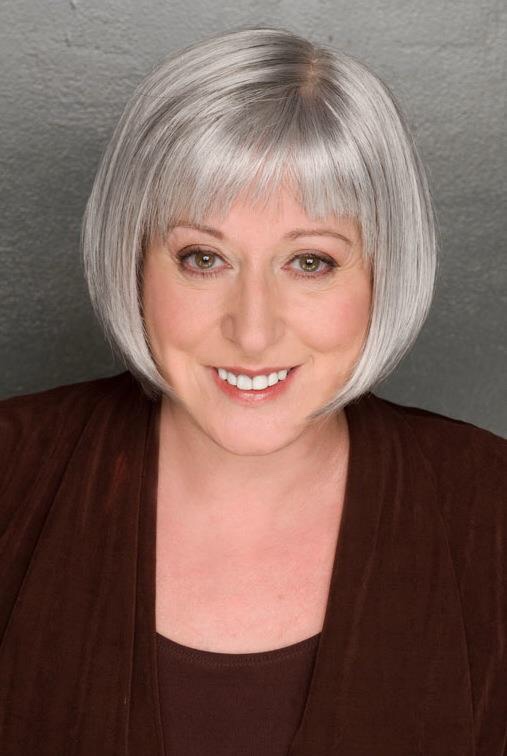 Karen Skidmore
Karen appeared in That's Life! and Young at Heart for WSP. She is remembered for her Stratford and Shaw Festival performances, especially The Mikado, which earned Tony nominations on Broadway. Karen's resume includes Misery (The Grand Theatre), Don Messer's Jubilee (Charlottetown Festival), and one performance as Martha in Stratford's Who's Afraid of Virginia Woolf? She wore the crown in the 'Queen Elizabeef' ad for Hebrew National Hotdogs, and is Crabtree's 'Aunt Daisy' on 'Murdoch Mysteries'. She was featured on BravoTV in 'Nureyev', which won two 'Gemini' awards. Karen settled down in Acton to marry Philip Drainie Taylor, son of radio pioneer John Drainie. They volunteer together at Erin Radio 91.7FM. As a radio host, 'Kat' specializes in Canadian folk music, hosting Canadian Roots, and The Afternoon Drive. For 38 years, she has been a volunteer coordinator and practitioner in the international Buddhist peace group SGI. www.sgicanada.org www.erinradio.org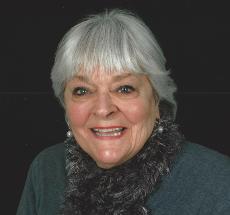 Meg Walter
In my full 82 years I have been blessed to have worked and walked with artists in and out of the business. In London's West End, on Broadway, Paris and across Canada. Lucky me.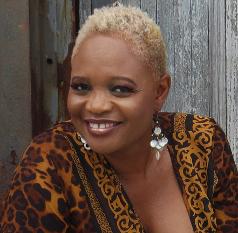 Denise Williams
Denise Williams currently divides her time between singing, voice teaching, and artistic producing. Her 30+ year performance career has put her at home on the concert, opera, and theatre stages. Career highlights include: international solo concert performances, the title role of the Canadian stage play debut, Portia White: First You Dream, as Monisha in the Nathaniel Dett Chorale's concert performance of Treemonisha at Koerner Hall, and cast member in the Mirvish production of The Sound of Music at the Princess of Wales Theatre. Denise is founding Artistic Director of No Strings Theatre and teaches voice at Sheridan College. She performed in Well Seasoned Production's That's Life and is pleased to be in the cast once again.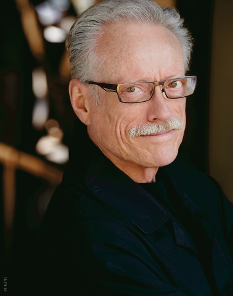 Patrick Young
Patrick Young boasts 49 years in the theatre as teacher, director, playwright, and actor. Most recently in Loot (Bygone Theatre), The Secret Garden in Concert (Bryant Productions), and Buying the Farm (Bluewater Summer Playhouse). For 25 years he was Founding Artistic Director of the Sheridan-UTM Theatre and Drama Studies Program; he also developed actor-training at Dalhousie and the Writers' Colony at Muskoka Festival. In the '80s he was known for musicals in Charlottetown (Windsor by David Warrack, On a Summer's Night by Jim Betts), for long-running hits in Toronto (Flicks, The Relapse, Automatic Pilot), and for playwriting (Winnie and Aimee! for Charlottetown, Abigail or… for Port Dover, both with music by Bob Ashley). In 2017 he was named one of the 50 Most Influential People in the First 50 Years of UofT Mississauga. Catch him this summer as Philip Russell in Affairs of State at the Classic Theatre Festival. www.patrick-young.ca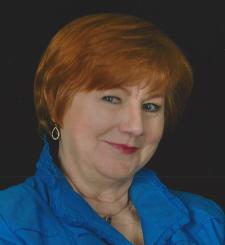 Lesley Ballantyne - Producer and Director
Lesley celebrates 45 years in the Canadian entertainment business this year. Her talents have allowed her to work as a director, choreographer, performer, producer, teacher, and arts administrator. Her peripatetic career has taken her across Canada, parts of the US, and as far south as the Bahamas. She is a proud Dora Mavor Moore Award winner and a Jessie Richardson Award nominee for On Tap. She has experienced the joys of performing, and directing and choreographing shows in theatres ranging from small storefront locations to the National Arts Centre in Ottawa. Next project: Songs of the City at the Winter Garden Theatre for the United Way of Greater Toronto.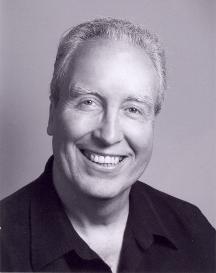 David Warrack - Musical Director
Born in Calgary. Credited with over 200 shows as writer or producer, including some of Canada's longest runs. Favourites include ROB ROY at the Edinburgh Festival, and his Oratorio ABRAHAM in 2015, starring Richard Margison. Toured with Maureen Forrester, Michael Burgess, and Jeff Hyslop. Conducted SHENANDOAH on Broadway. Three Dora Mavor Moore Awards. Musical Director/Co-producer of SONGS OF THE CITY for United Way since 2015. Musical Director/Arranger for Television special YOUR ALL-TIME CLASSIC HIT PARADE, now shooting its 4th season.
www.davidwarrack.ca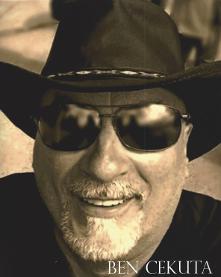 Ben Cekuta - Stage Manager andLighting Design
Born and raised in Toronto, Ont. Studied at York University and Ryerson, with studies at the Banff School of Arts in 1975. Versatile in many capacities, from direction to design. 17 years as Artistic Director of 'Theatre on the Hill' and 'Theatre De La Salle' with 42 productions produced, included with cast member, Trish Adams, as choreographer, on a number of productions. Ben received a Dora Mavor Moore nomination in Lighting Design for the Limelight Dinner Theatre's production 'EVITA' (Stage Managed as well), 1986.
"... since life is too short and still, having...youth...I'm very proud, honored and happy to work again -on my forth production, with the Cast Members, and Peers, et al of 'Well Seasoned Productions' ..."
For the last 28 years Ben has been working in ...the other industry of the arts.... as Transport Co-ordinator, on many Feature Films and TV shows, shot in and around Toronto.
"...'tis good to be- Live... "
Show Construction/Writer: Scott Smith
Graphic Design: Reilly Ballantyne https://reillyballantyne.ca/
Archive Recording: Casey Mattson
AND A SPECIAL THANK YOU TO OUR VOLUNTEERS:
Merle Garbe, Briane Nasimok, Morrie Sinkins, Marcia Tratt
And the numerous supporters who helped us promote the show on Social Media platforms
Programme for An Afternoon with Jerry Herman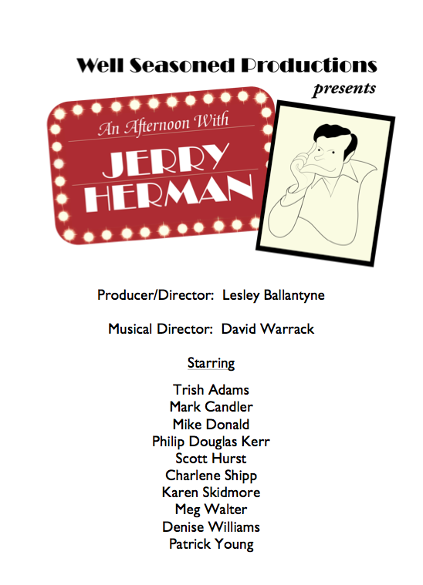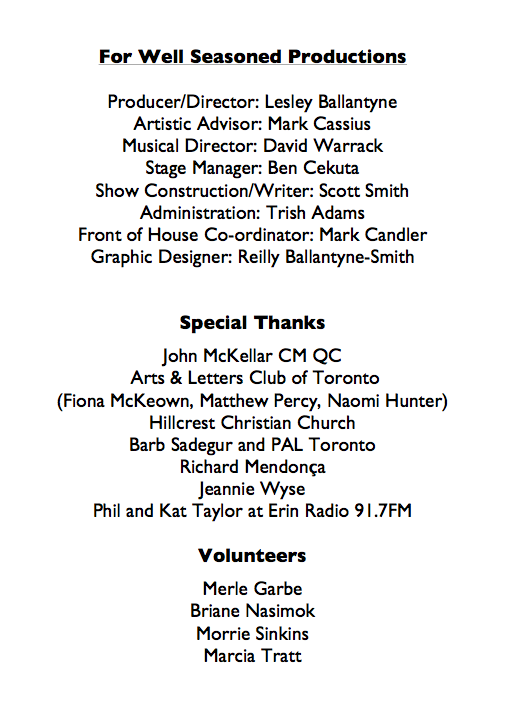 This project was funded in part by the government of Canada's New Horizons for Seniors Program.