Well Seasoned Productions was honoured to perform for a group of seniors at Blair Court, Toronto, on January 25, 2019.
Julie Dabrusin, the MP for the Toronto-Danforth riding, is a huge supporter of WSP's mandate. We were thrilled to note that upon our arrival The Honourable Filomena Tassi, PC MP, Minister of Seniors, was also in attendance.
WSP has benefited in the past from a New Horizons for Seniors grant and we were very grateful to have the opportunity to give back to a most welcoming audience.
Click HERE to see the speeches after the concert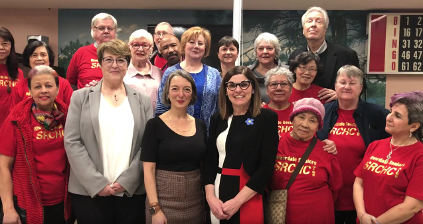 Joan White, Julie Dabrusin, Filomena Tassi with members of WSP and the Ukelele group.