TOGETHER AGAIN! Cast (in alphabetical order)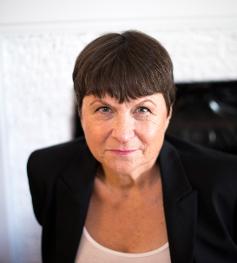 Trish Adams is a 40+ year veteran of the stage as a singer, actor and dancer. She has choreographed, created and adjudicated; appeared on TV and film, small stages and big stages across Canada and floating stages in the Caribbean for Disney Cruise Lines. Some of her favourite roles include Anita in West Side Story (Muskoka Festival); Diana Morales in A Chorus Line (Limelight Dinner Theatre, Vancouver Playhouse); Sophisticated Ladies; Anytime Annie in 42nd Street (Limelight Dinner Theater), Mrs. Lynde in Anne of Green Gables (Port Hope). Trish is a personal trainer & certified fitness instructor for older adults. A proud mom and even prouder granny of 3. This is Trish's 7th season with Well Seasoned Productions for which she wears a plethora of hats. She is happy to be performing live and Together Again!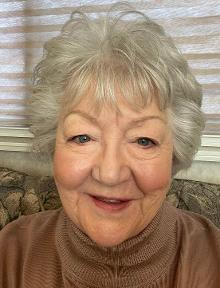 Val Boyle is an actress and writer. Val appeared as Mrs. Brill in Mary Poppins on Broadway, in Los Angeles and Toronto; Mrs. Potts in Beauty and the Beast at Theatre Aquarius, Drayton and Dunfield; Shirley in Shirley Valentine at Kawartha, Theatre Aquarius, Stage West and a Canadian Tour; Mother Superior in the Canadian Premier of Nunsense and at Kawartha Theatre, Theatre Aquarius, Stage West; Sophie in Sophie Tucker Story at Theatre Aquarius, the Canadian Tour and in London, England. Val's film and television credits include Strange Days; Rupert The Bear; Murdoch Mysteries; Ruby & Well; Titans, Pradeeps Of Pittsburgh; Swing Into Romance; Lease On Love; Picture Perfect Romance; Un-Perfect Christmas.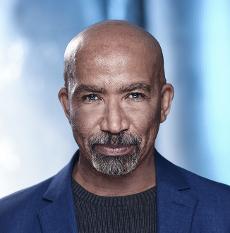 Mark Cassius is a versatile singer and entertainer, who has been featured on Broadway, in the Original Cast of Ragtime and revivals of Jesus Christ Superstar and Shenandoah. He has spent seasons at both the Shaw and Stratford Festivals. Also, with Drayton Entertainment in Damn Yankees, The Little Mermaid and Sweet Charity. His Toronto Theatre credits include Joseph and the Amazing Technicolor Dreamcoat (with Donny Osmond), Miss Saigon, Showboat, Cats and the Toronto Premiere of the Off-Broadway Musical, The Musical of Musicals, (the Musical), for which he received a Broadway World, Best Actor nomination. He toured internationally with acclaimed Canadian quartet, The Nylons, for eight years. He has been a Musical Director at Canada's Wonderland, a Vocal coach for High school Theatre Arts programs & vocal studios across Canada and the United States. He is a recurring Performance instructor at The Randolph College for the Performing Arts in Toronto and also teaches Musical Theatre Performance courses at Sheridan College and Ryerson University.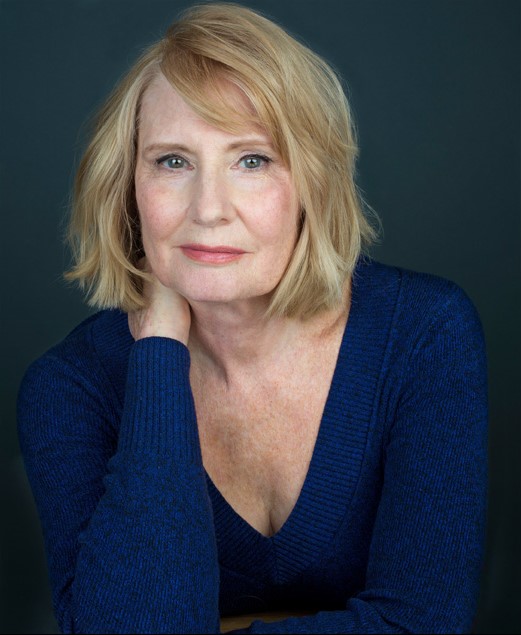 A vivacious performer, voice artist, director and writer, Heather Dick brings energy, joy and a touch of humour to all that she does. She has performed in, directed or produced more than 80 shows in theatres all across Canada and appeared in films, television and commercials. Some favourite stage roles include, Talley's Folley (Sally Tally) at Sudbury Theatre Centre; Noises Off (Poppy) at Stage West Dinner Theatre; Old Love (Molly, Kitty, Kendra) for Sirius Theatrical Company; Halfway There (Rita) for Globus Summer Theatre and Knickers (Barb) at Upper Canada Playhouse. In 1989 Heather founded the Sirius Theatrical Company, a flourishing company that mentored emerging artists while producing critically acclaimed multi-disciplinary performance pieces. A playwright and short story author, Heather has been published in two anthologies and won first place in 2017 and second in 2020 at the Joseph Smrdelj Short Story Contest. Thrilled to be singing and dancing for Well Seasoned Productions, Heather hopes you enjoy the show.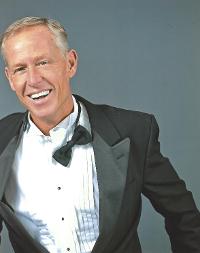 Paul Anthony Gordon has been working professionally for 46 years in theatre, film and television. Credits include American Gods, Umbrella Academy, The Boys, The Accused, Chucky, The Incident Report, The Handmaid's Tale, and In the Tall Grass as well as short films Rocket Fuel, Down Deloro River, Burden of Thoughts, Ruined Vision and Second Draft. Other film credits include Hairspray, The Magic Show, Superstar, Feast of All Saints and A Christmas Carol. Paul performed the lead role of Guy Weadick in the Calgary Stampede Grandstand Show for four years. Other theatre credits include, Oklahoma, Swing, and The Best Little Whorehouse in Texas. Paul teaches tap workshops and conducts student and teacher seminars for studios, dance competitions and conventions. He currently performs his 40's & 50's song and dance revue All of Me, at fundraising galas, retirement resorts and theatres and is excited to be performing with Well Seasoned Productions.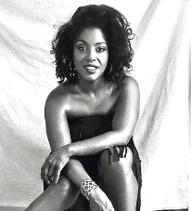 Nova Scotian, Africadian, Toronto-based recording artist, Shelley Hamilton, is a singer, actor, host, producer and writer based in Toronto. Shelley has worked internationally, sung on Allegro by Robert Michels, which won a 2003 Juno, and done everything from a cappella with stand-up comedy, to singing the Rolling Stones classic "Gimme Shelter", beside the legend herself, Merry Clayton. Being a Black woman in country and folk music, has garnered her a 2019 Nomination, Canadian Folk Music Awards, African Nova Scotian Music Association's 2019 Artist of the Year and African Canadian Artist of the Year nod for the East Coast Music Awards in 2020. Her recent release "Think On Me" pays homage to Portia White and her iconic song from the 1940s, which in Feb 2023, reached top 30 on the Canadian Indie Country charts. Shelley's latest production with Jordan Klapman celebrates "The Queens of Jazz".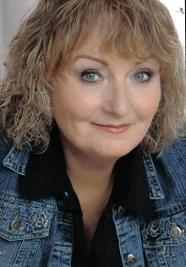 Karen McDonald has worked in professional theatre for more than a couple of decades as a performer; writer; director and educator. Favourite roles include Fiddler on the Roof; Singin' in the Rain; Hello; Dolly! in Toronto. Funny Girl; Othello; As You Like It; Happy Hunting in New York. National Tours of Gypsy; Pirates of Penzance; Those Were The Days, and internationally, 42nd Street. Ontario regional theatres include Drayton; Theatre Orangeville; Rainbow Stage; Red Barn; Thousand Islands Playhouse; Showboat; Alleyway; Forbes; Dominion Rep. Capital Theatre; Sudbury Theatre Centre. Karen's plays have been produced in Ontario, Alberta, New York and New Jersey, most notably Up in A Balloon and A Song in the Key of Caleb. A proud member of Actors Equity, ACTRA and the Dramatist Guild, Karen is the first recipient of the Senator Dale Vulcar Award for Excellence in the Arts. Thank you, Lesley, Trish and Mark, for a most joyous experience. This one is for Robert!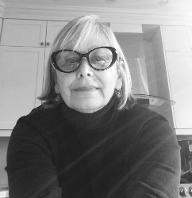 Laraine McMahon-Nelson is so excited to have this opportunity to be on stage with Well Seasoned Productions' Together Again! She is returning to the stage after a long time of focusing on teaching. When she was younger, she worked mostly in musical theatre and commercials. Laraine also wrote half a dozen musical plays for young audiences that toured schools across Canada. In addition to her creative efforts on stage, Laraine is a visual artist and she regularly shows her work in art shows in the Toronto area. You can see her paintings on Instagram @artbylaraine. Thank you so much, Lesley, Trish, Mark and everyone else who has worked so hard to make this show happen.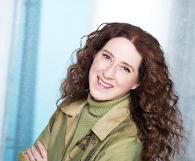 Trish O'Reilly-Brennan is a singer/actor, writer, arts educator, editor, community activist, and gardener whose performing credits include the Blyth Festival, the Canadian Opera Company, Sudbury Theatre Centre, Tapestry Music Theatre and the Toronto Fringe Festival. Favourite roles include Eliza Doolittle in My Fair Lady, Mabel in Pirates of Penzance, and premiering roles in two new plays (This Year, Next Year and Ballad for a Rumrunner's Daughter) at Blyth. Trish wrote, produced, and performed in Carrying On, a show based on real-life stories of Canadian women in WWII; produced and co-created the clown-opera performance piece The Figaro Project; and was a member of the irrepressible a cappella Renaissance trio the MadriGALS for two and a half decades. She is a member of the climate activist group Artists for Real Climate Action (ARCA) and is currently obsessed with saving the world through growing native plants.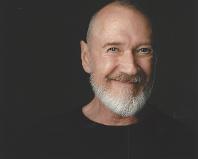 Jeffrey Prentice is happy to be Together Again with WSP after last performing with them in Can't Get Enough. Having weathered the pandemic, retirement and several more Canadian winters, it is a pleasure to be onstage once more. During his career Jeff has performed from coast to coast at theatres such as The Charlottetown Festival, The Shaw Festival, The Stratford Festival, Rainbow Stage, Winnipeg, The Citadel Theatre, Edmonton, and The Vancouver Playhouse. He recorded a CD in 1996 entitled "Look Out for Love" and continues to sing along with his ukulele whenever he can convince anyone to listen. Currently Jeff spends his time teaching jazz dance classes, going to the gym, baking cookies and cakes, and making hand-beaded moccasins. He couldn't do any of these things without the support and encouragement of his long-suffering husband, Pol; shout out to you, hon!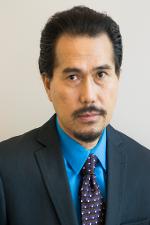 Isai Rivera Blas is a Filipino-Canadian performer trained in acting, singing, and dancing. He studied acting at The Neighbourhood Playhouse School of the Theatre in New York City and singing and dancing at various studios in Toronto. Stage credits include Joseph and The Amazing Technicolor Dreamcoat; West Side Story; A Chorus Line; Mame and A Better Place. TV and film credits include Blindness; Mayday 3 & 7; Fatal Vows 3; This is Wonderland; 5000 Years of Heroes; Kung Fu Graffiti; and The Wedge. Isai is extremely grateful to be cast in Together Again! All the love to his family and friends.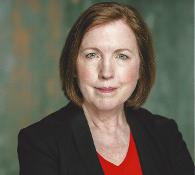 WSP debut! Deborah Tennant has had a long career in Canadian theatre, music theatre, TV and Film. Theatre credits include The Sound of Music (5 productions including Stratford and Mirvish); My Fair Lady; Fiddler on the Roof; Beauty and the Beast; Anne of Green Gables; Mrs. Warren's Profession; 2 Across; The Team on the Hill; The Philandress (Best of Toronto Fringe, Second City Comedy Award). TV/film credits include Murdoch Mysteries; Reacher; Schitt's Creek; Private Eyes; The Kid Detective; Ruby and the Well and many movies with the word "Christmas" in the title. Deborah also works in casting (Dear Evan Hansen, Come From Away, Verona, Mythic) and teaches Voice and Acting for Music Theatre at Randolph College for Performing Arts, as well as privately. Thanks Lesley, Trish and Mark for having me. For B and A, as always.
CREATIVE TEAM FOR TOGETHER AGAIN!
Producer and Director: Lesley Ballantyne (see About Us)
Artistic Associate: Mark Cassius
Administration: Trish Adams
Choreographers: Trish Adams, Mark Candler, Paul Anthony Gordon, Jeffrey Prentice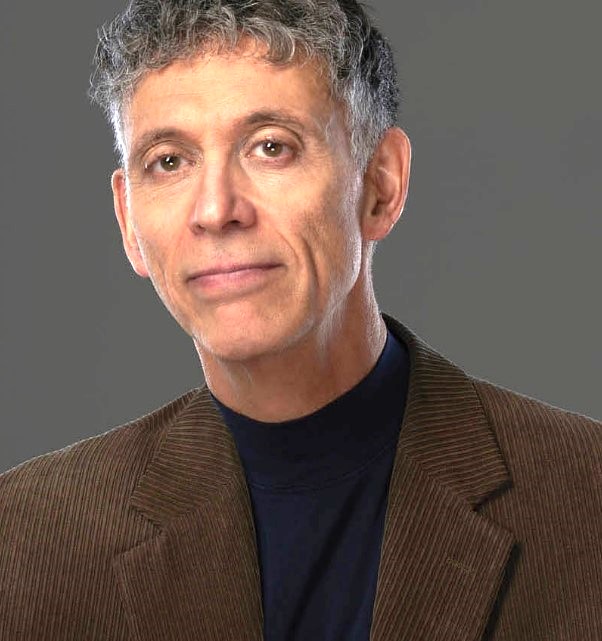 Musical Director: Jordan Klapman is a professional music educator and performer. A versatile solo and ensemble pianist, accompanist, bandleader, music director, composer, arranger, vocal coach and recording producer, he has more than thirty years' worth of experience performing many different genres of music, ranging from jazz standards of The American Popular Songbook and Broadway, to Latin, R&B, classic pop, and Jewish music of all kinds. Jordan performs extensively at music festivals, jazz clubs, concert halls, and theatres throughout the Toronto area, across Canada, and internationally, and he's performed as both a soloist and accompanist at Toronto's Roy Thomson Hall for numerous performances of Seniors' Jubilee, the largest talent showcase in North America. He's also appeared at Koerner Hall and The Richard Bradshaw Theatre at the Canadian Opera Company, and nationally on CBC radio and television. Jordan also worked with the late Jeff Healey as a co-host of Healey's My Kinda Jazz radio programme on JazzFM.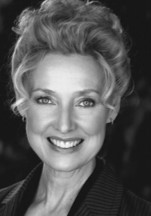 Associate Musical Director: Jill Diane Filion has had an extensive career in music theatre, concert and opera. Favourite roles include Signora Naccarelli, The Light in the Piazza; Miss Stacy and Rachel Lynde, Anne of Green Gables; and Eliza in My Fair Lady. In her native B.C., Jill toured with the Vancouver Opera Ensemble and was co-founder of both Kaspar Productions and Westcoast Concert Opera. She performed in both the Toronto and International touring companies of Phantom of the Opera and was in the original cast of Ragtime. Jill has been a voice teacher/vocal coach at Sheridan College in the Musical Theatre Degree Program and choreographer/musical director at the Randolph Academy for Performing Arts. Jill continues to accompany singers and musicians at concerts, cabarets and church services as well as maintaining a private voice and piano studio.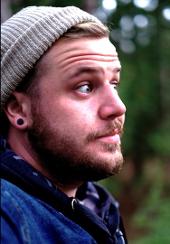 Lighting, set, andLivestream:Connor Price-Kelleher is a technical director, live stream consultant, and clown based in Toronto. Connor has worked for companies and theatres such as The Alumnae Theatre, Act 2 Studios, Driftwood Theatre Group, Aplombusrhombus, The Isabel Bader Centre, The National Arts Centre, The Nogojiwanong Fringe Festival, The Ottawa Fringe Festival, and the Fresh Meat Festival. He has toured across Ontario performing in parks, bars, theatres, and this one time in Winnipeg (wrong turn).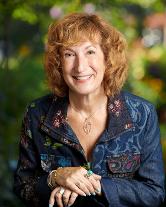 Stage Manager: Dennie Theodore (she/her/grama), stage manager, director, and writer, Dennie has contributed to shows and projects across the country, from BC to NFLD and all stops in between. Long ago a singer and musician, she is always looking for events which celebrate life and art. After a hiatus to work in technology, she's thrilled to return to backstage. Fresh from Rock of Ages; The Musical McCoy; and The Pirates of Penzance, her 2023 has been filled with late night fries and music. FYI Dennie believes that chocolate, chips, and bourbon are all food groups, and pie is for breakfast.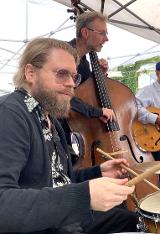 Percussion: John Collin's father was a drummer who taught him as a youth, before sending him to Humber College to study with notable great Roger Flock. Being influenced by the big band drummers of the swing era and B-Bop jazz drummers, John has played with most of Toronto's prominent big band jazz ensembles. With over 30 musical theatre shows to date, John has also toured across Canada with actress/singer Cassie Steel from the TV show Degrassi: The Next Generation, played in show bands on cruise ships and toured internationally in hotels in Asia.
Special Thanks:
Box Office Manager: Barry Higgins
Front of House and Volunteer co-ordinator: Michael Green
Graphic Design: Reilly Ballantyne
Photographer: Casey Mattson
Archive Videographer: Toby Proctor
Ushers: Robbie Clarke, Merle Garbe, Susan Thornburrow, Marni Walsh, Patrick Young